Franziska Nazarenus in Paris 
Explore Spring 20 with Fashion & Lifestyle Blogger Franziska Nazarenus!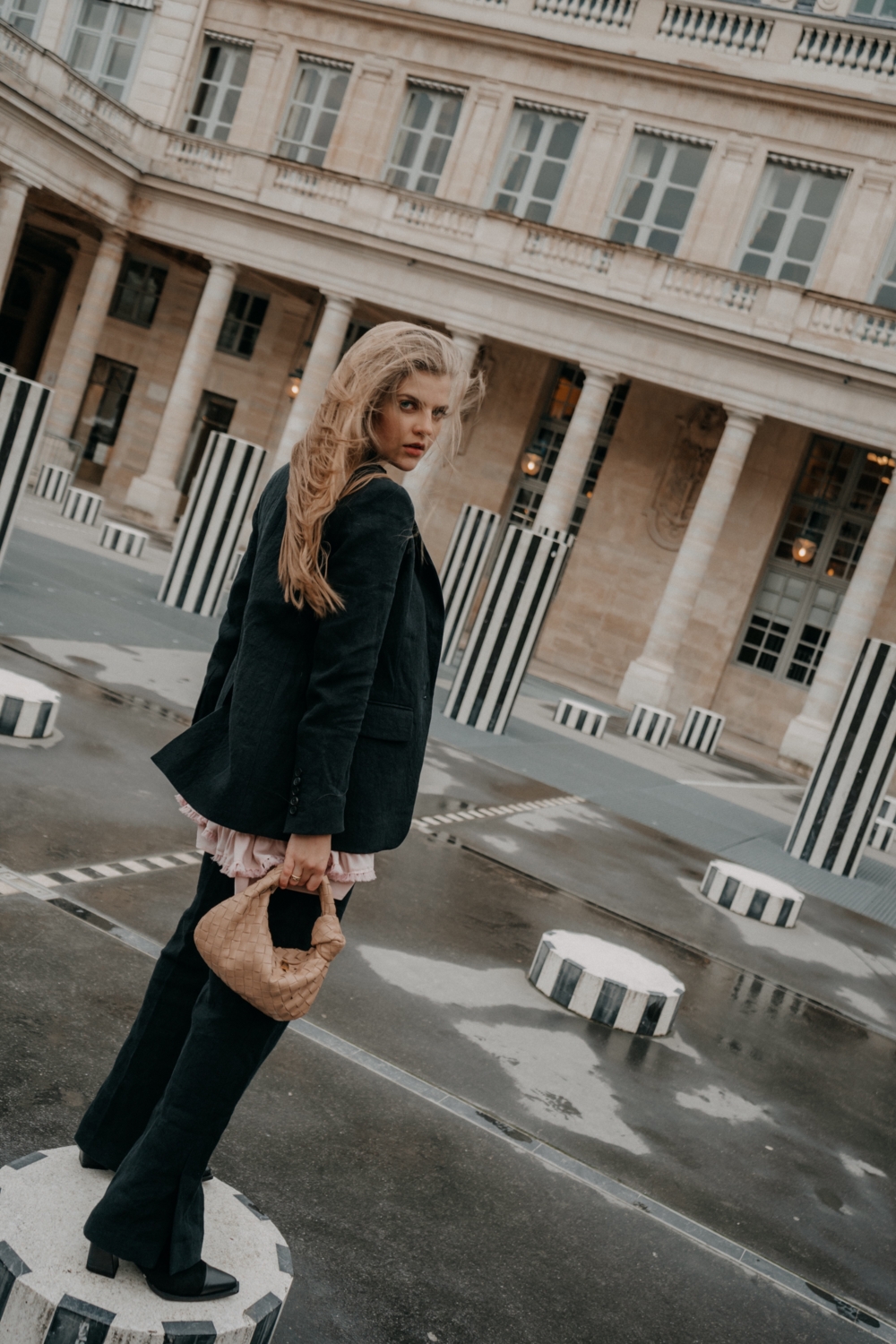 Feminine crêpe de Chine silk top with ruffle details and chantilly lace embroidery.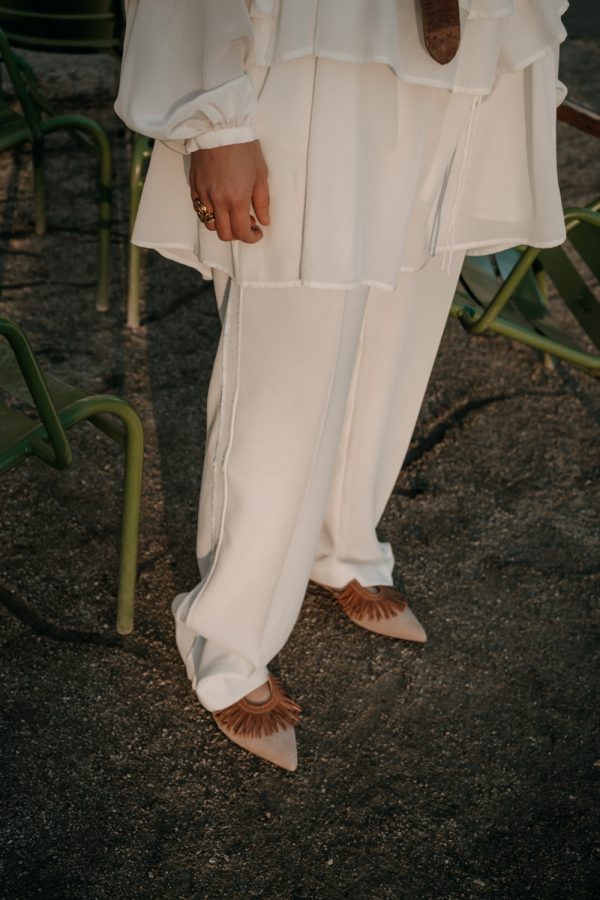 Suede mule with fringe detail.
Bohemian inspired multi-layer crêpe de Chine silk dress.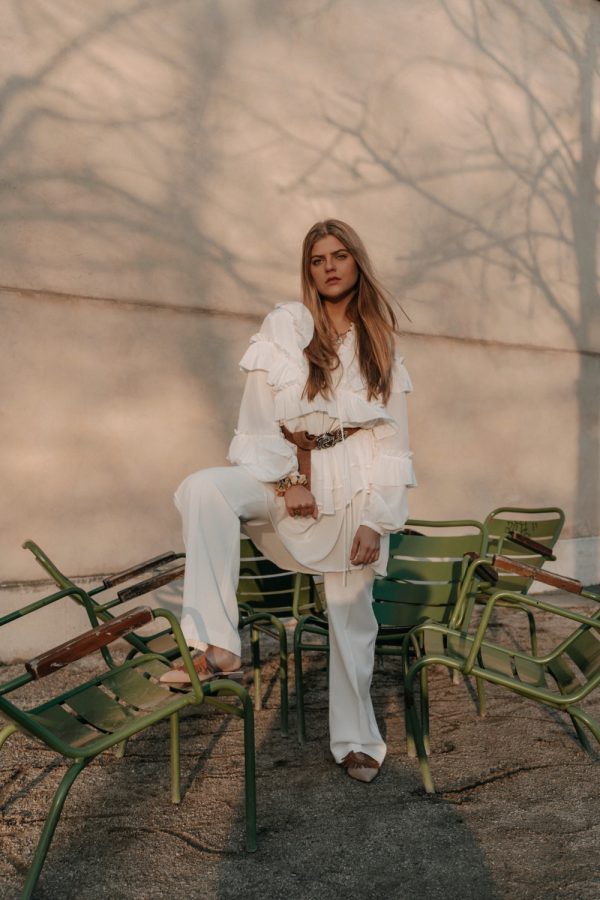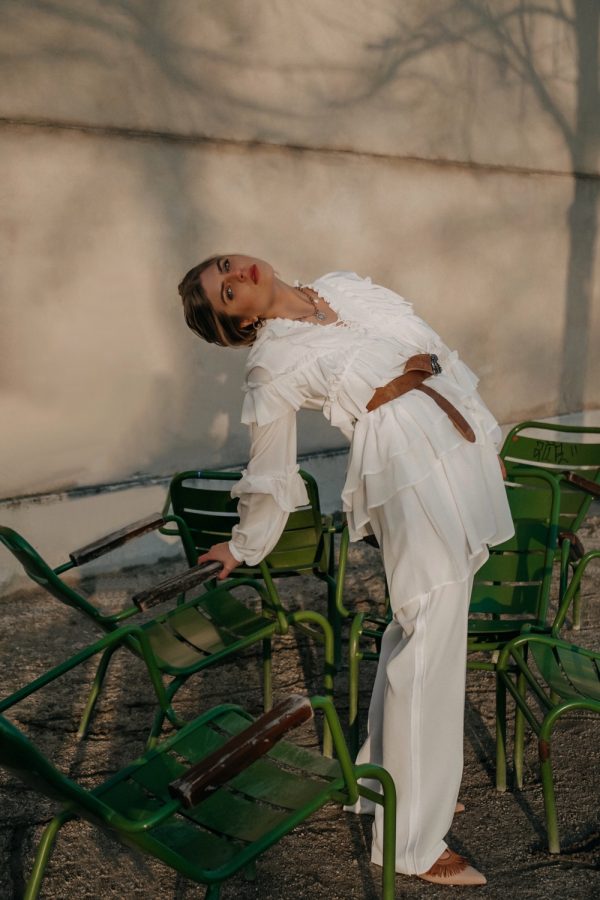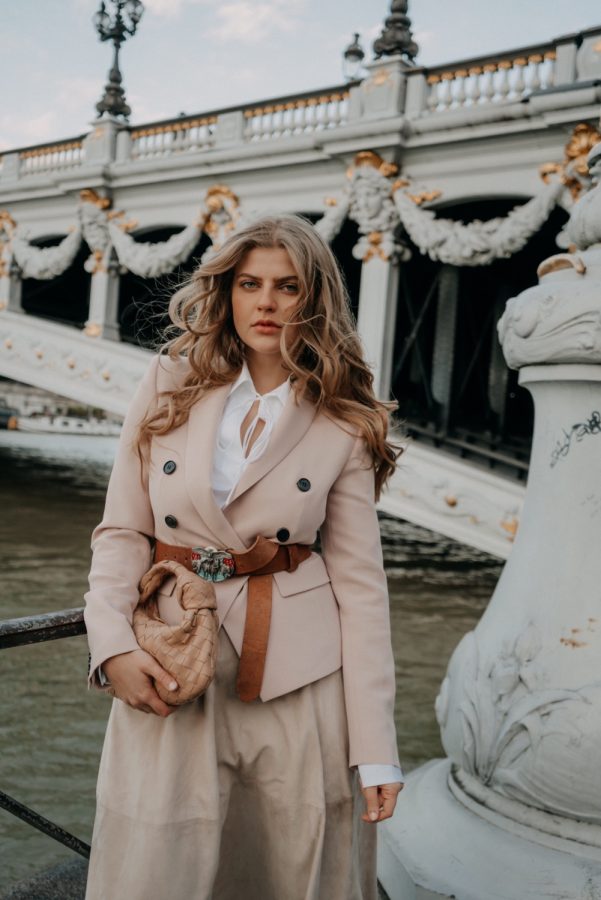 Short double-breasted 6-button jacket.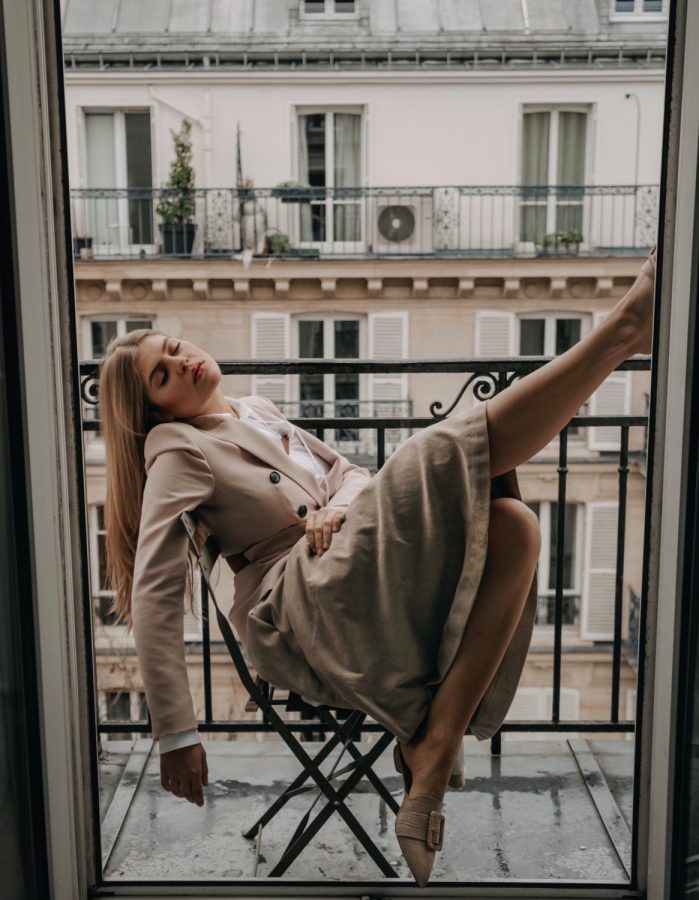 Panelled midi length high waist suede leather skirt.  
---
Lieblingsstil bei SLY010 in Paris 
Petra Dieners von Lieblingsstil besuchte uns anlässlich der Pariser Modewoche. Anbei Petras Lieblingslooks der aktuellen Frühjahr Sommer Kollektion sowie Ihr Blog Beitrag.
Unterwegs auf der Fashion Week in Paris – die neue Modekollektion von SLY010 – 14 Styles
Eine schönere Location kann ich mir nicht vorstellen! Direkt auf der Luxusmeile der Rue de Faubourg St.-Honoré in Paris befindet sich der Showroom des Labels SLY010. Hohe, stuckverzierte Decken. Originalparkett von 1890. Allein das Treppenhaus lässt schon mein Herz höher schlagen.
"Paris ist unser zweites zu Hause und ein ganz wichtiger Standort für uns," erzählt mir SLY010 Inhaber Bernd Schürmann. Ich treffe Kunden aus Zypern, Osteuropa und Italien im Showroom. Gerade kommen Kunden aus Kanada. "Wir haben viele neue Kunden in USA und sind sehr erfolgreich in Kanada. Das ist für uns eine tolle Bestätigung, dass unsere Mode international gut ankommt und ebenso respektiert wird wie in unserem Heimatland Deutschland. Ein Kunde aus der Nähe von New York liebt besonders unsere Abend- und Cocktailmode."
Verschiedene Models präsentieren den Kunden die neue Mode "live". So können die Einkäufer/innen die Passform und die Schnitte besser beurteilen.
Die Frühjahrskollektion, die ich Euch gleich zeigen werde, ist leicht, luftig und sehr feminin. Zarte Farben wie hellblau, rosé, weiß und kit spielen eine wichtige Rolle. "Die Verarbeitung ist sehr präzise, offen kantig geschnittene Rüschen mit vielen Paspeln. Eine sehr lässige und sommerliche Ausrichtung," so beschreibt Bernd die aktuelle Kollektion.
Die SLY010 Kollektionen bauen sich untereinander auf, so dass man die Teile immer kombinieren kann. Vor vier Monaten hat SLY010 eine eigene Boutique in der Schlüterstraße Ecke Ku´damm eröffnet.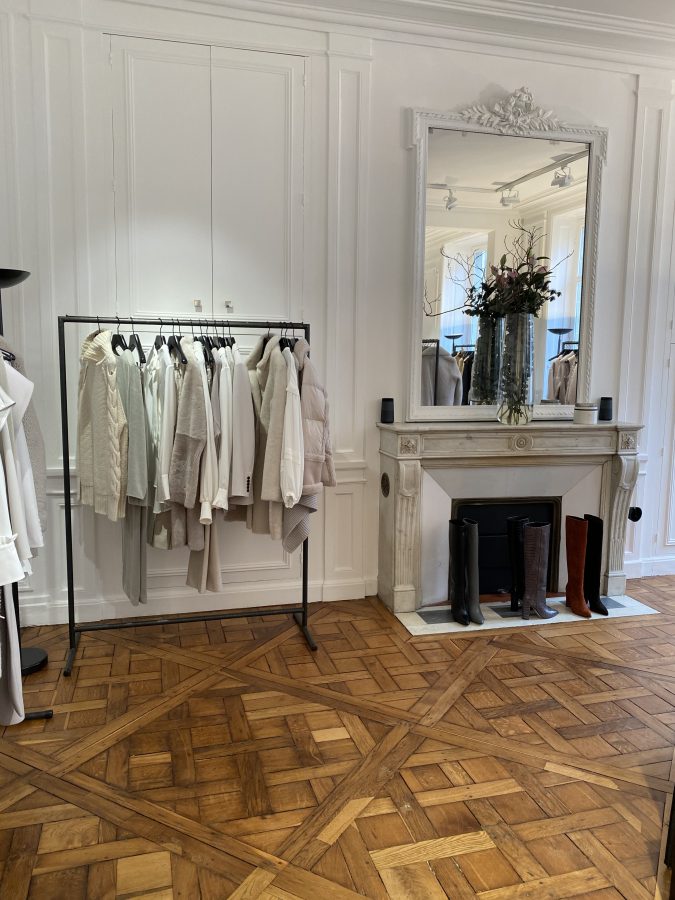 Dieses Outfit ist der Lieblingslook von Bernd Schürmann in der laufenden Saison.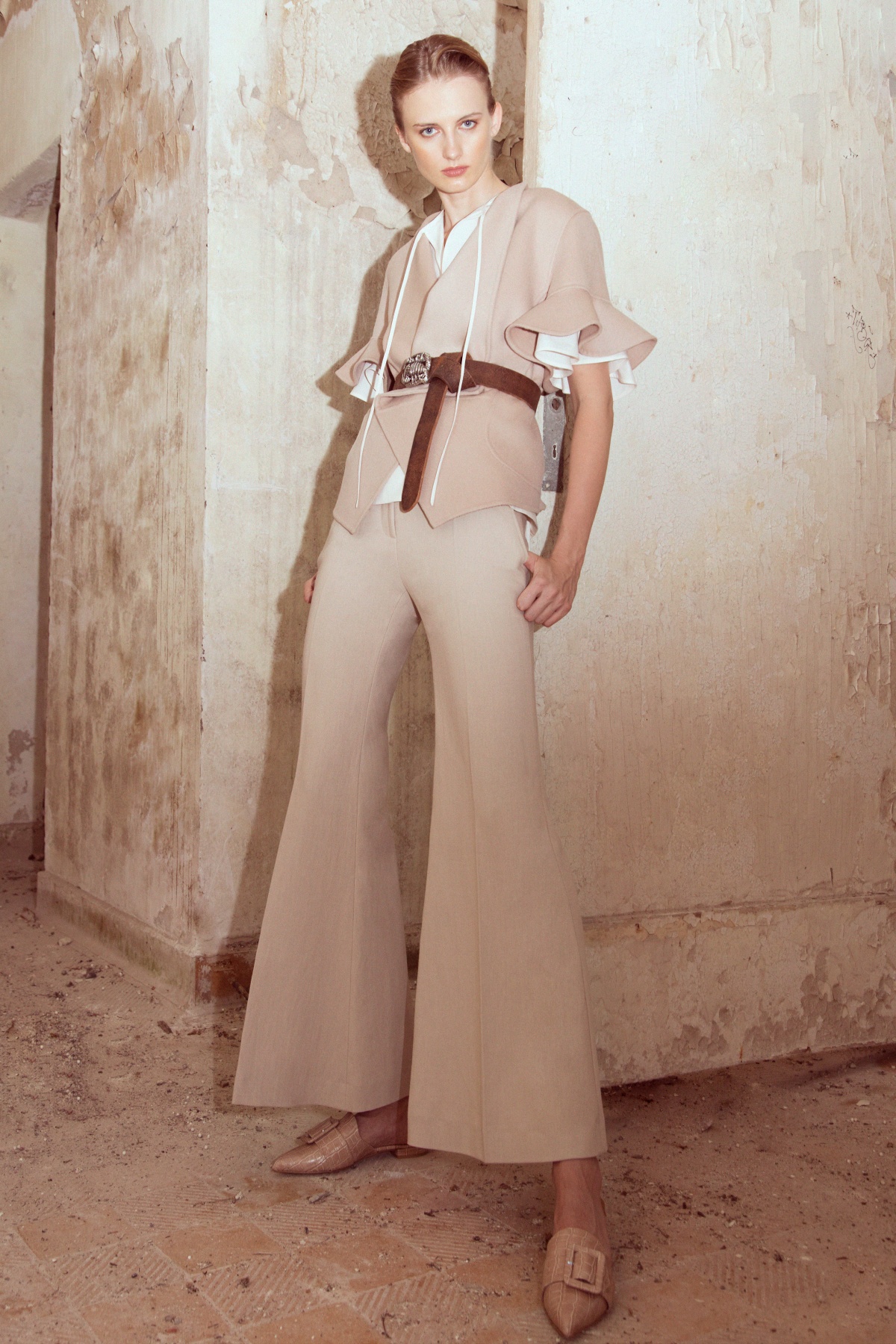 Ganz begeistert bin ich von diesem tollen Wildlederrock in der Farbe camel. Man kann ihn jetzt mit einem Pullover tragen und im Frühling mit Bluse oder T-Shirt. So ist er saisonübergreifend einsetzbar. Ich habe den Rock mit einer cremefarbenen Bluse und roten Stiefeletten kombiniert. Diese Farbkombination mag ich ganz besonders.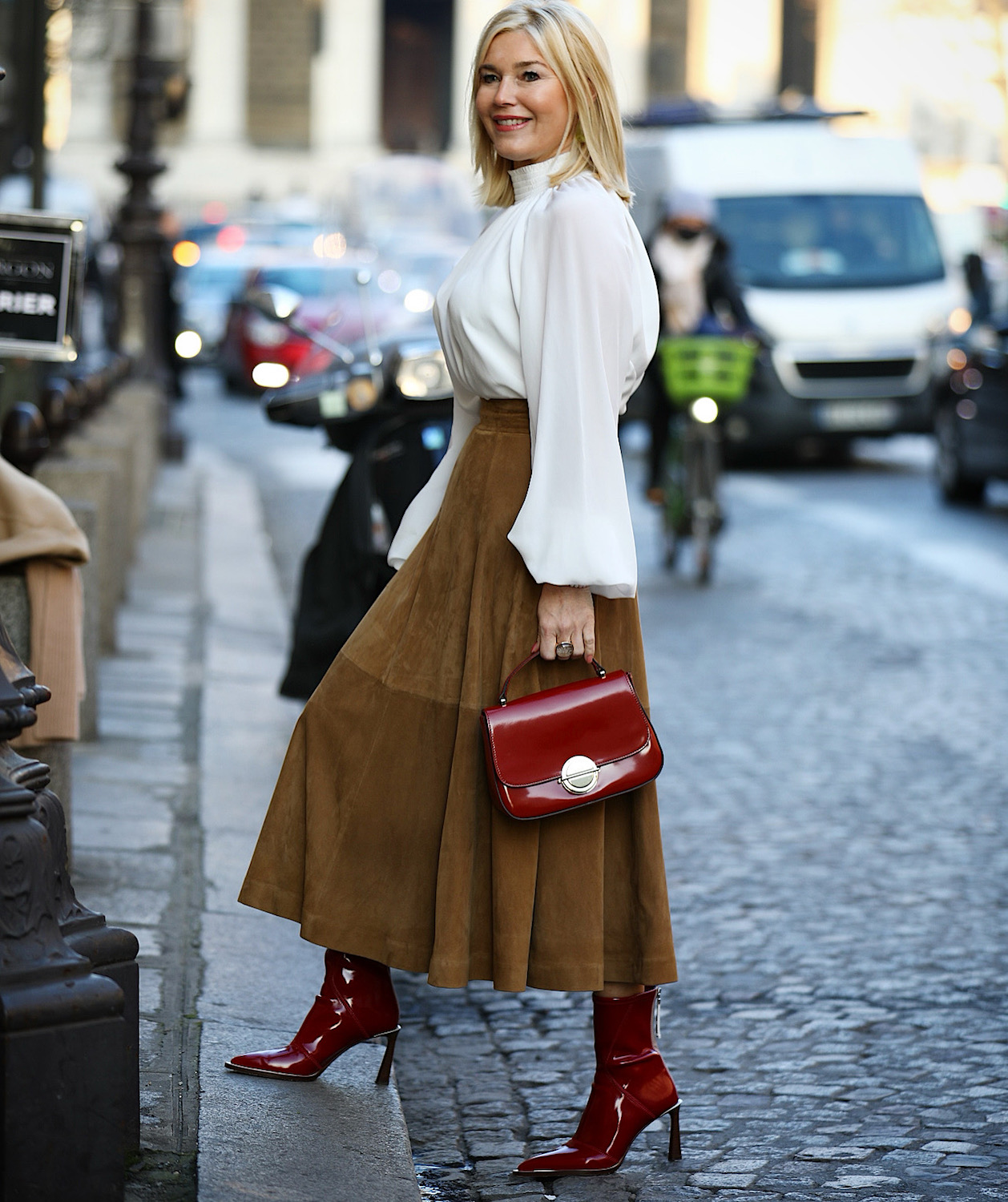 Ton in Ton. Volantskleid aus Seide zum geradlinig geschnittenen Mantel in der gleichen Farbe.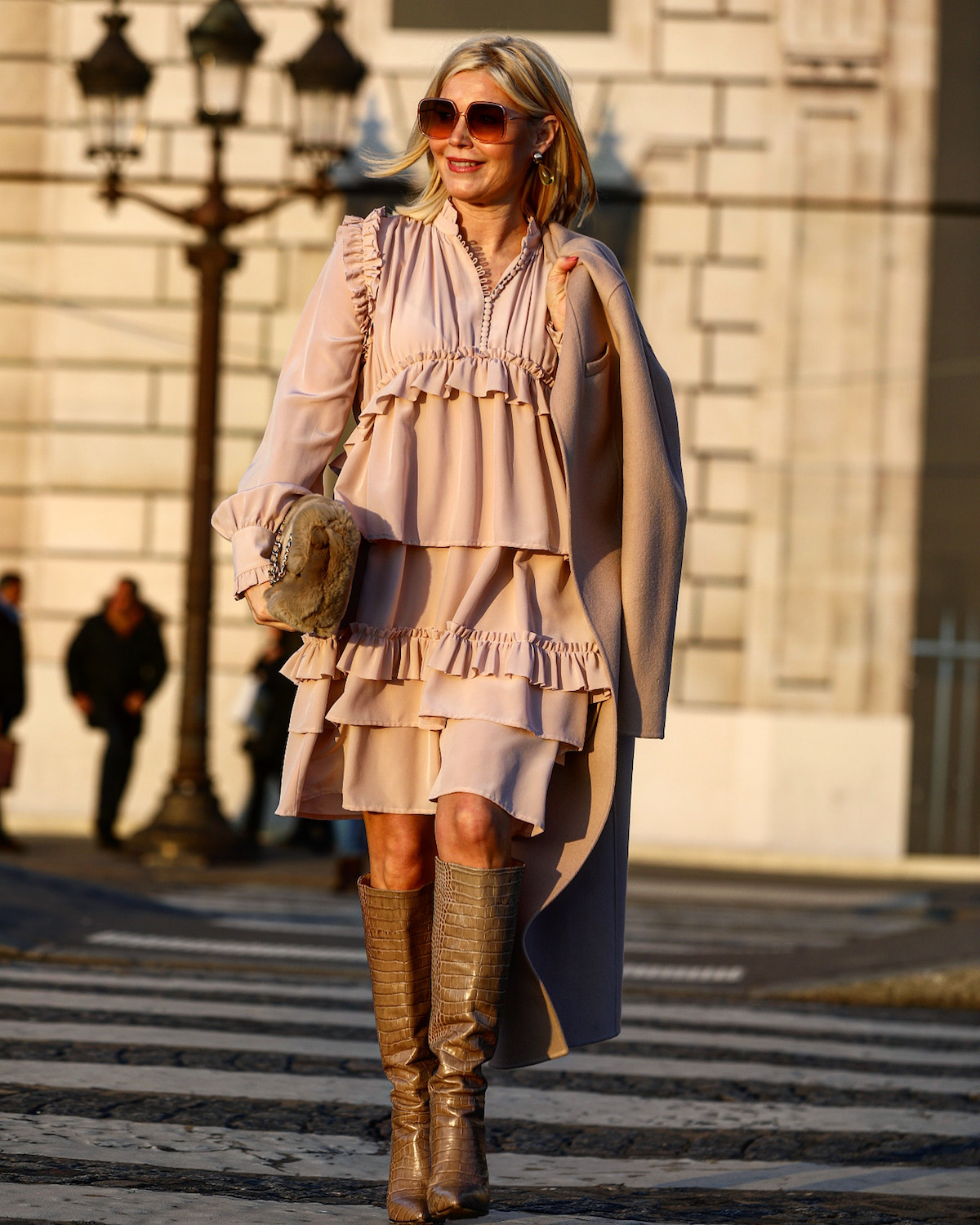 Volantsbluse mit farblich passender Lederhose in leichtem rosé. Auch hierzu passt der lässige Doubleface-Mantel.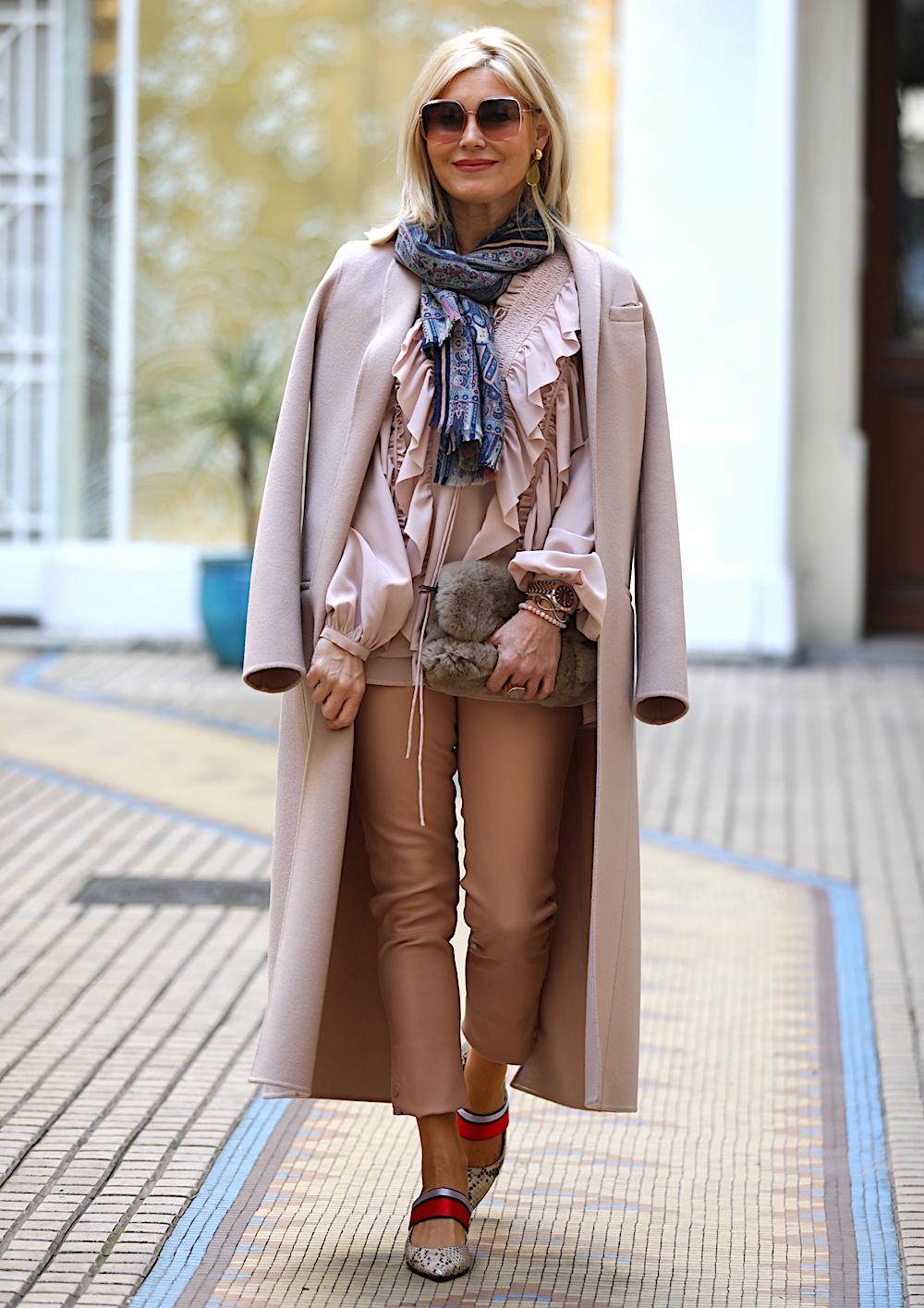 Ganz helles rosé, fast weiß. Dieser etwas kürzer geschnittene Mantel, ebenfalls aus der schönen Cashmere Doubleface-Qualität kann man vorne auch binden. Die Hose mit Gummizug ist ganz lässig geschnitten und ist aus einem coolen Crepe Material.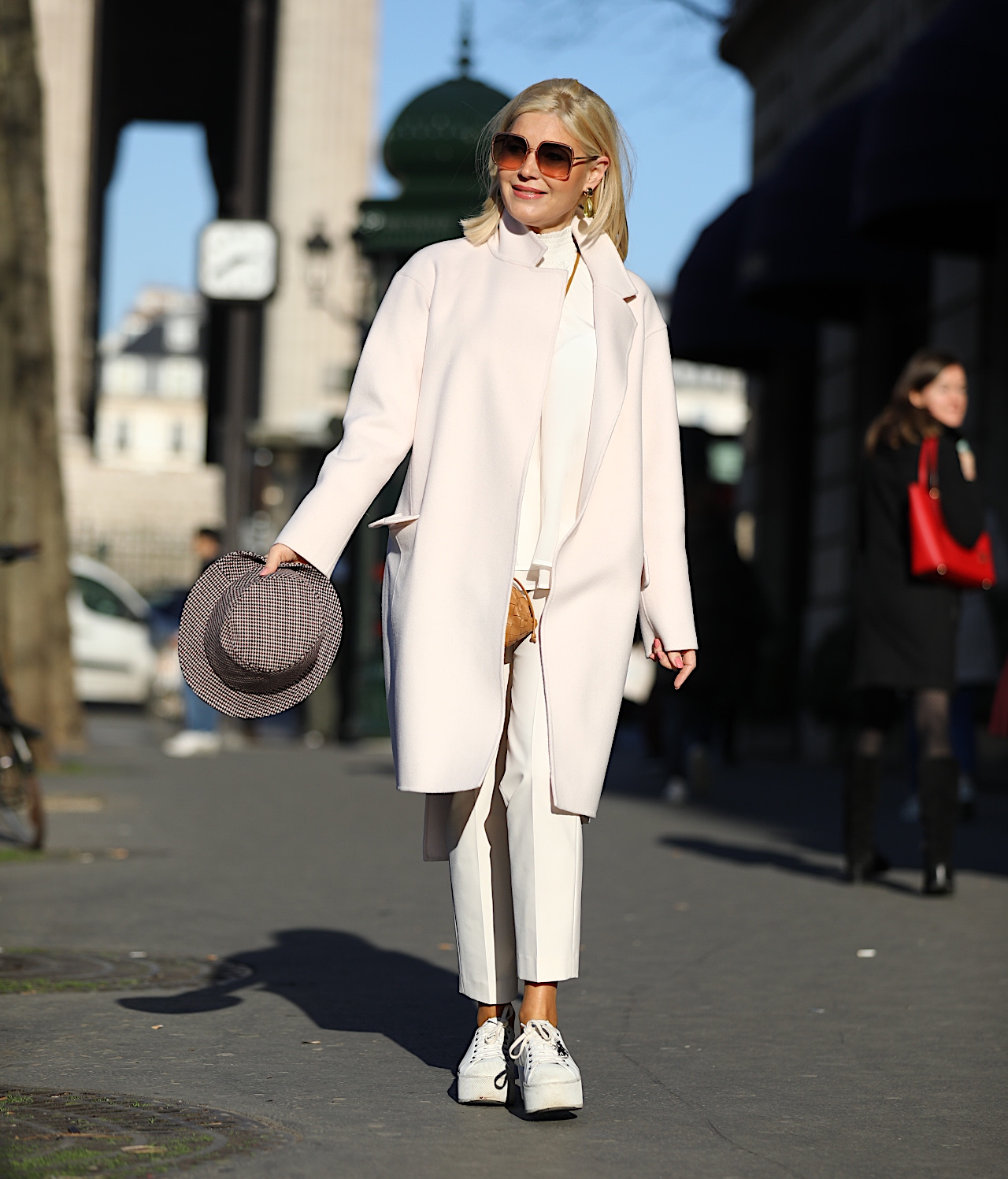 Hellblau ist ein großes Thema in der neuen Kollektion von SLY010. Der lang geschnittene Cashmeremantel sieht einfach total lässig aus. Hier habe ich den Mantel zu einer farblich passenden Hose mit Stoffgürtel kombiniert.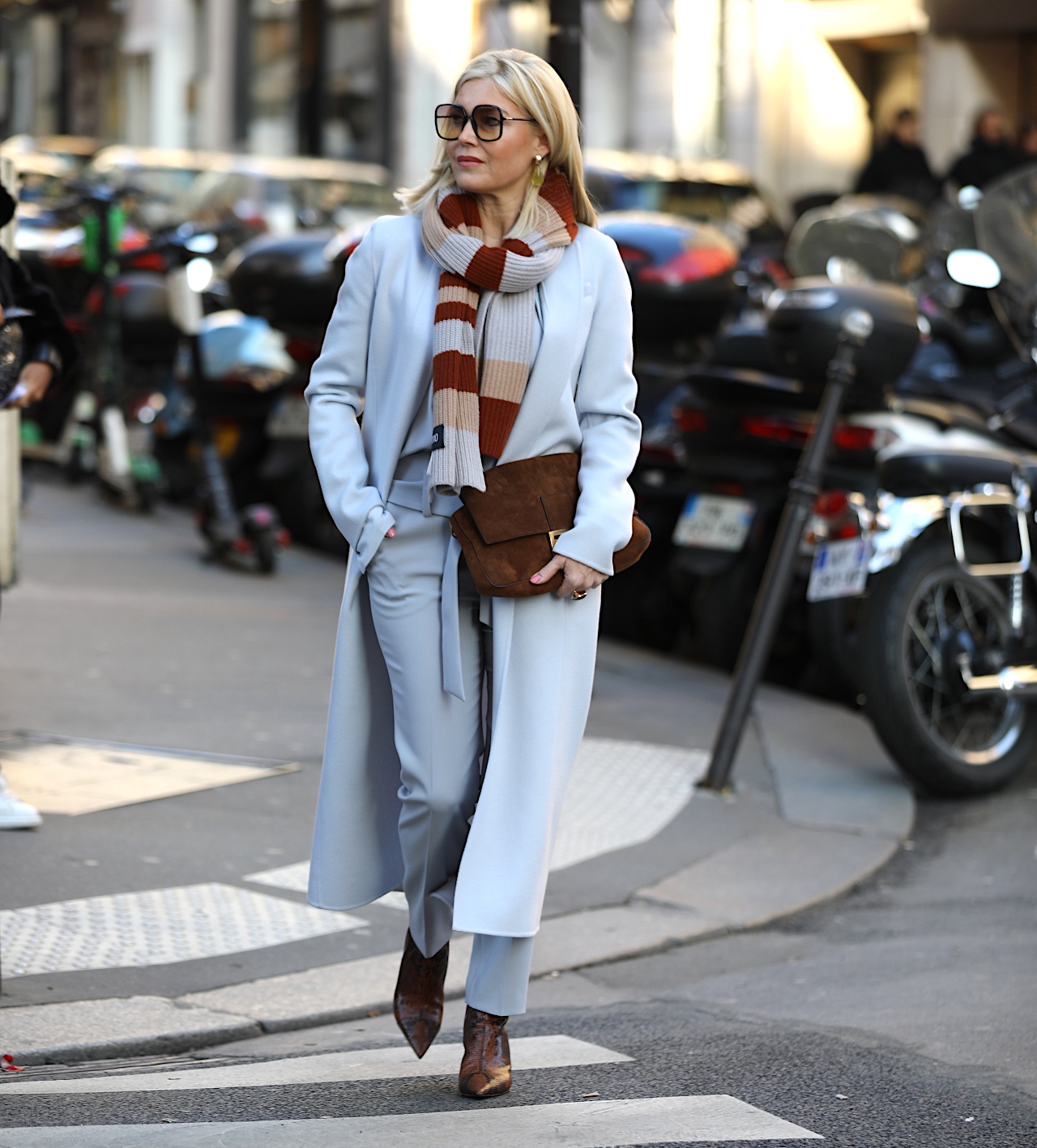 Das klassische Outfit mit Bluse, Blazer und Seidenrock Ton in Ton in hellblau habe ich mit dem rustikalen Gürtel gebrochen. Schade, dass man die Bluse nicht sieht. Sie ist leicht tailliert und auch sehr schön!
Die leicht ausgestellten Lederhosen gibt es in verschiednen Pastelltönen. Ich wollte Euch aber auch zeigen, dass SLY010 auch Schuhe hat!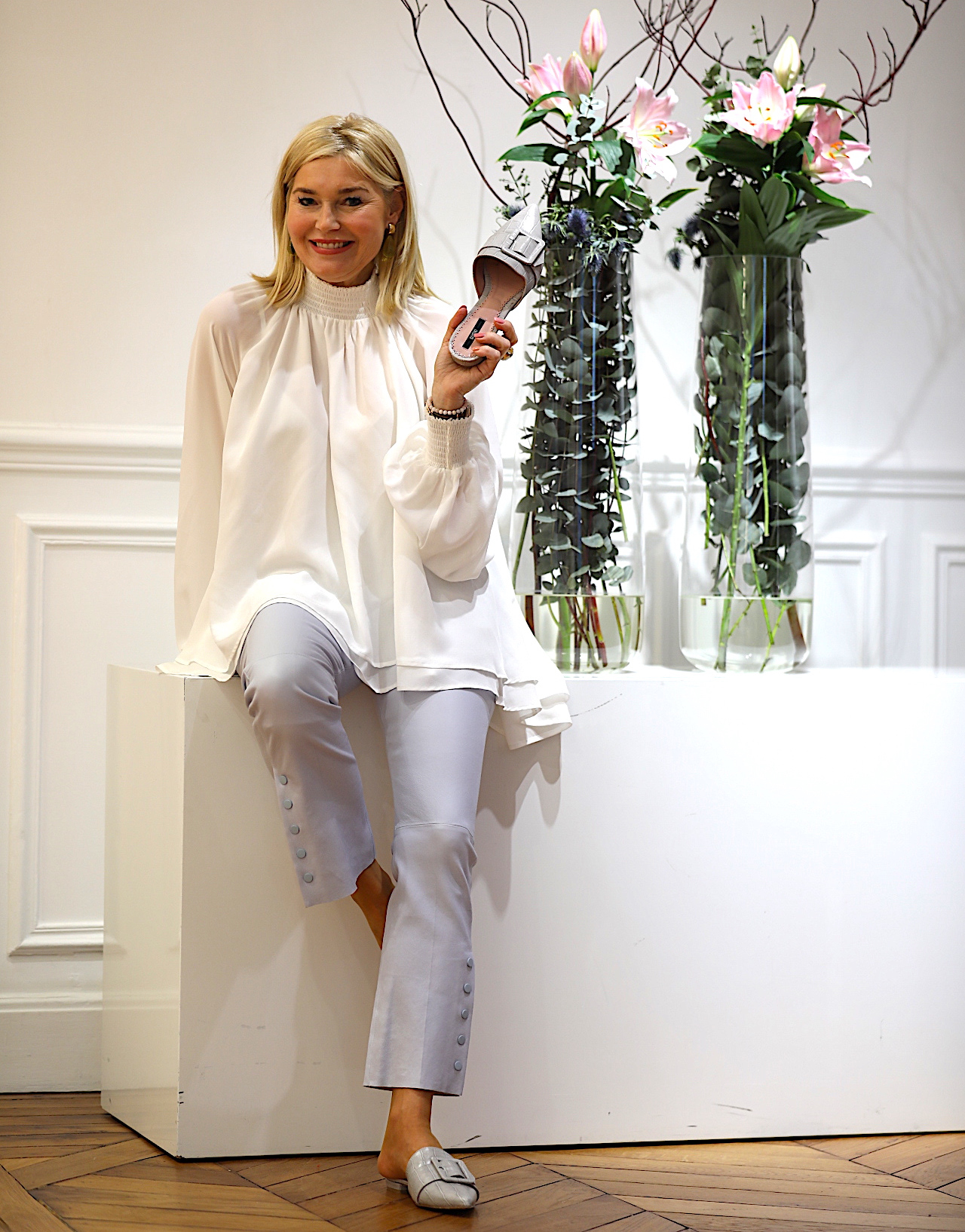 Schon in Berlin haben wir ein paar Styles von SLY010 fotografiert. Auch hier unterhält das Label einen großen Showroom in einer schönen, alten Villa. Doubleface Cashmerejacke mit verspieltem Ärmeldetail (auch oben am Model zu sehen) Ebenfalls ein absoluter Favorit von mir. Die Baumwollbluse passt perfekt unter die Jacke. Farblich passend gibt es eine Bermuda, die jetzt ganz aktuell sind. Man kann es mit passendem Blazer auch toll als Sommeranzug tragen.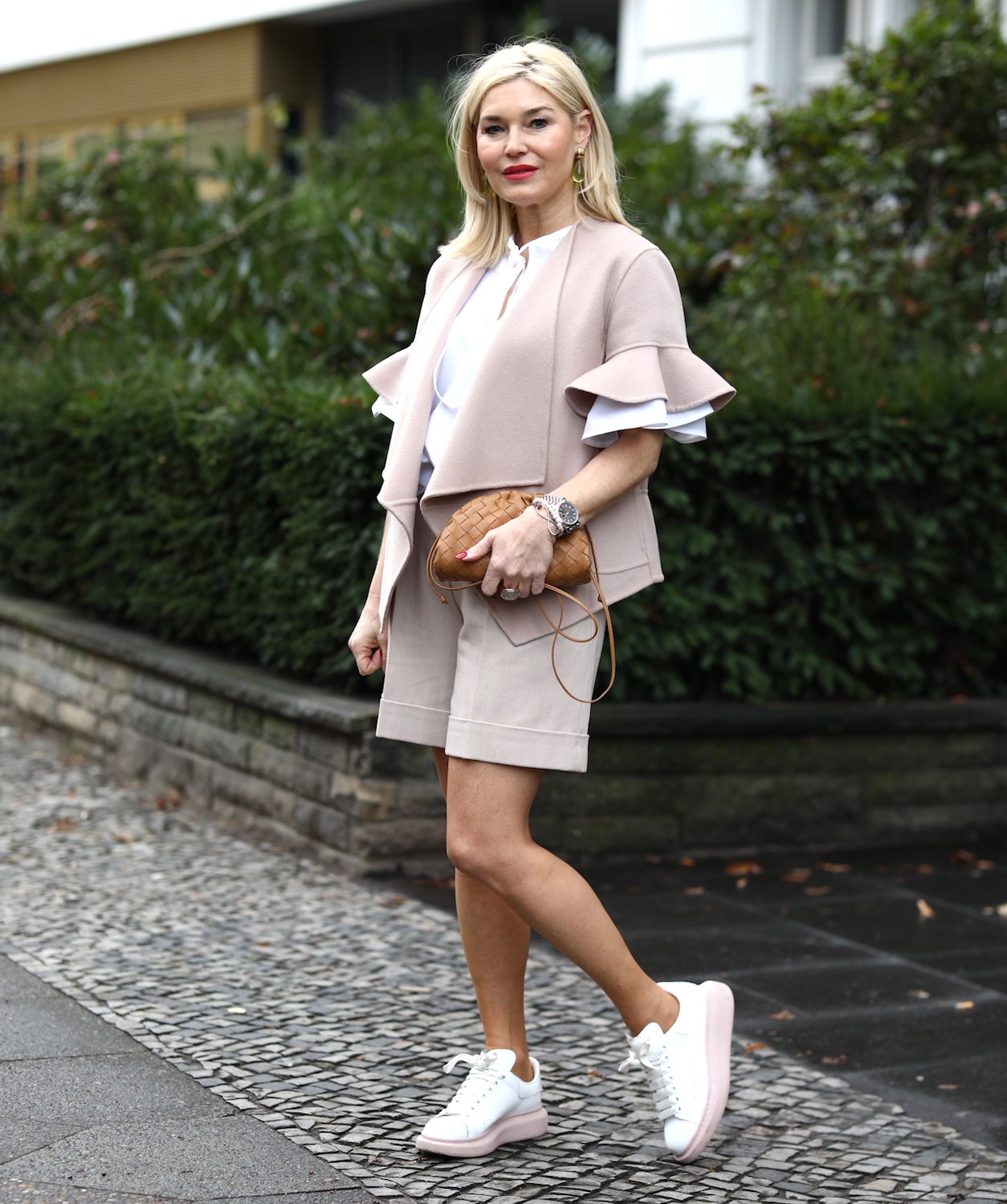 Mein Lieblingsmantel passt auch super zu diesem romantischen Kleid im angedeuteten Leoprint in hellblau.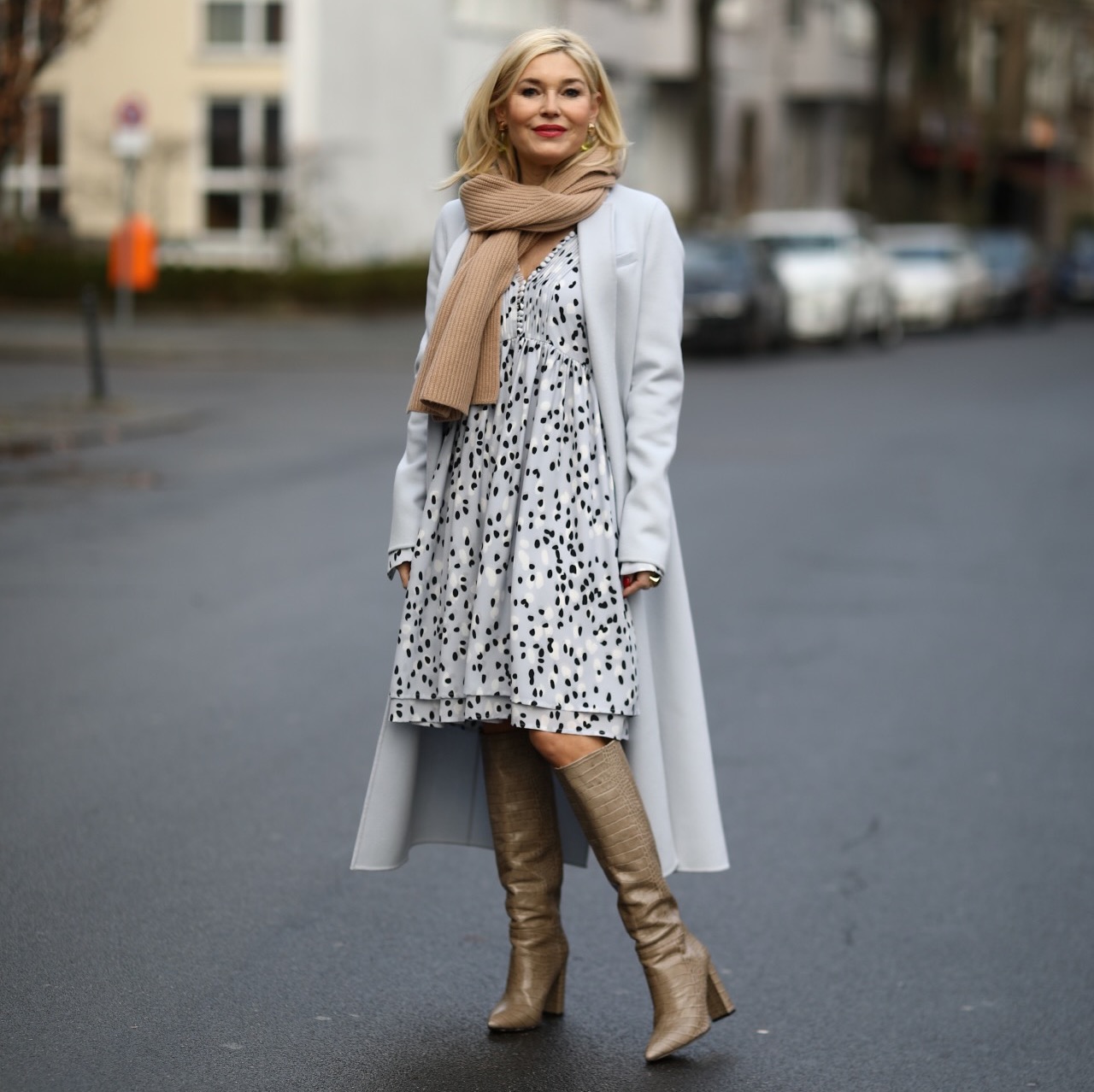 Gegensätze ziehen sich an: Auch hier romantisches Kleid zum strengen Businessblazer. In diesem Muster gibt es noch einige andere Styles.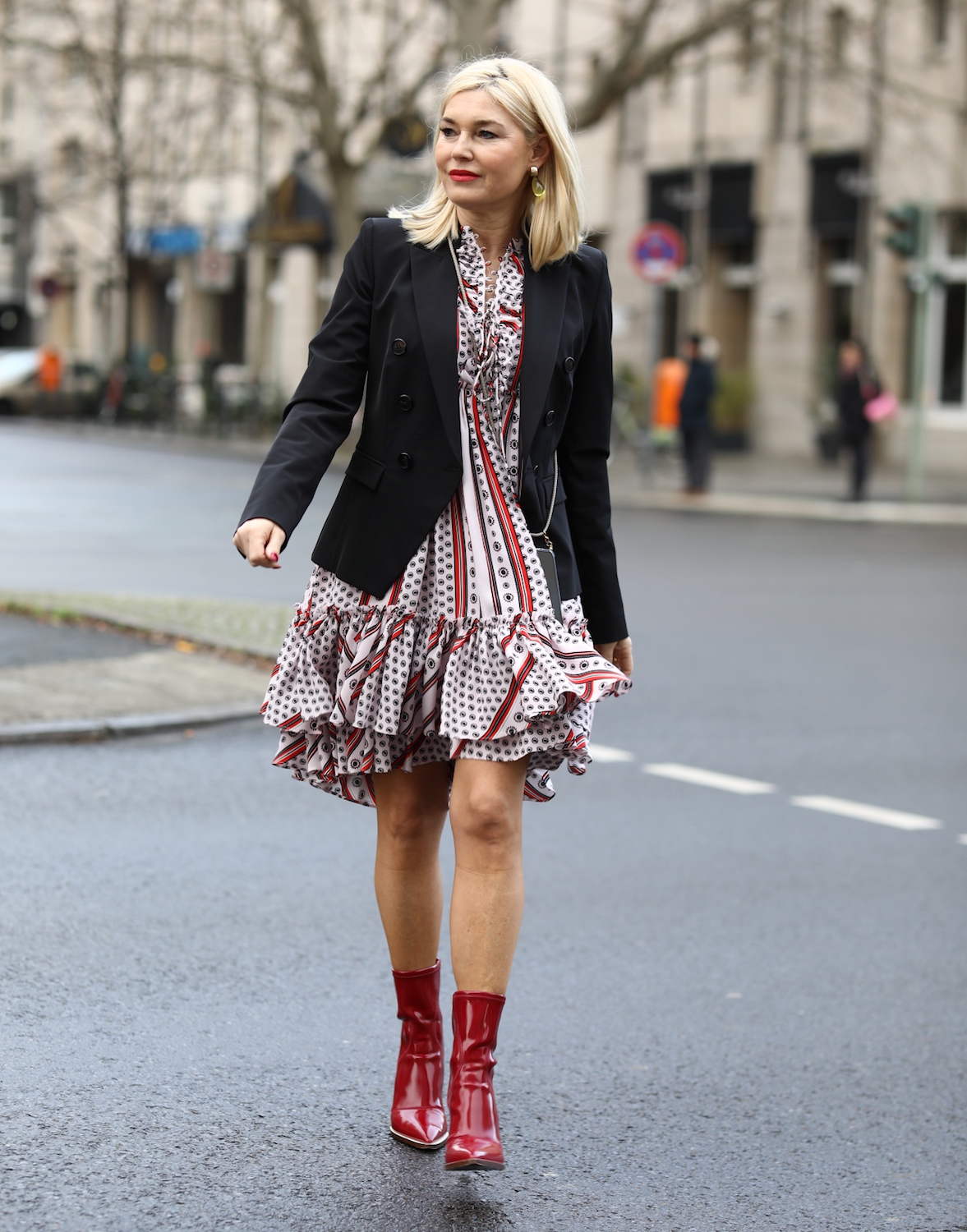 Ich kann es einfach nicht abwarten, Euch auch schon ein paar Styles der kommenden Herbst-Winterkollektion zu zeigen. Ich habe den neuen Rostton, der wunderbar zu schwarz, dunkelblau und wollweiß passt, hier mal mit einem hellen Pinkton kombiniert.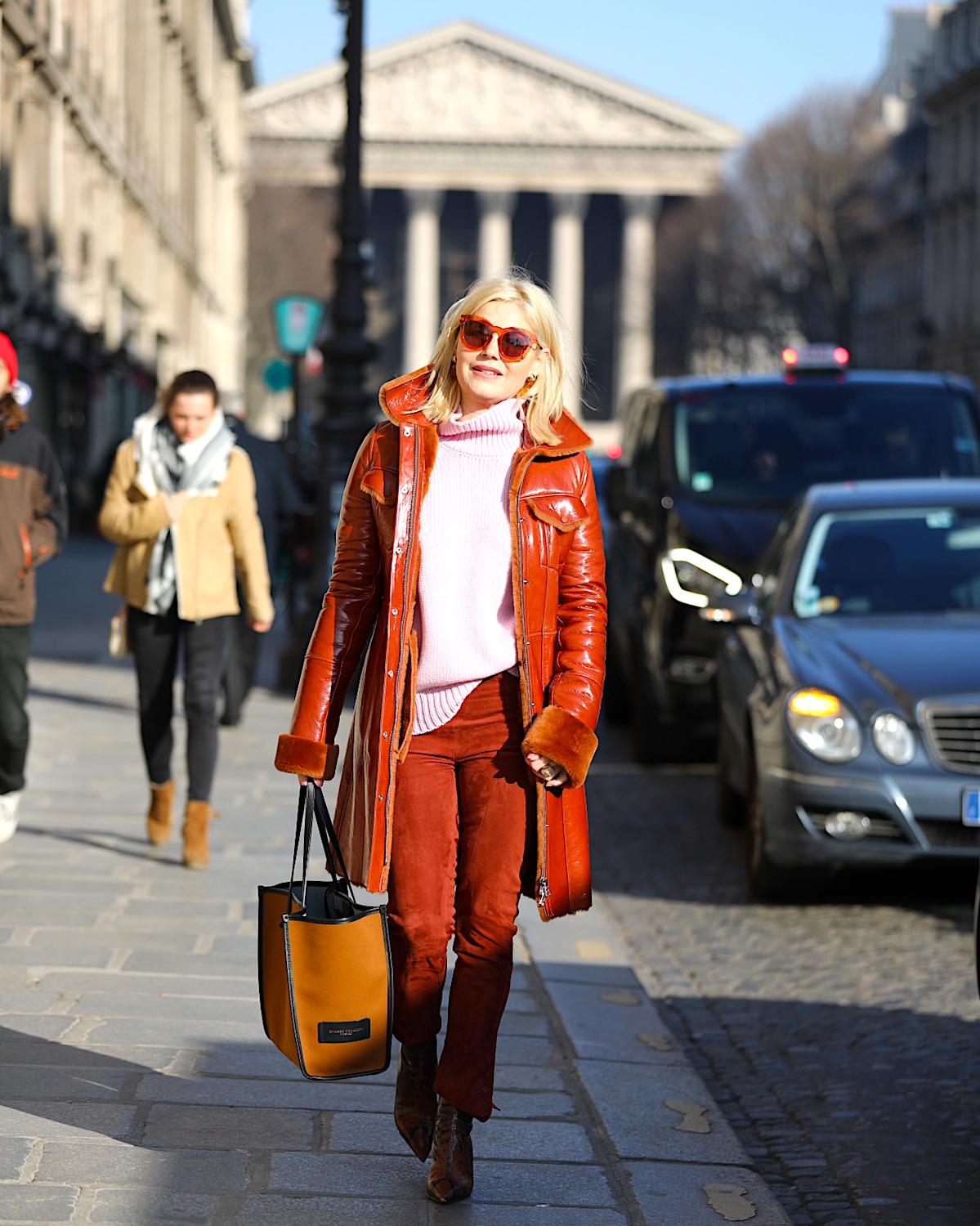 Es kommen ganz tolle Leoprints in rosa!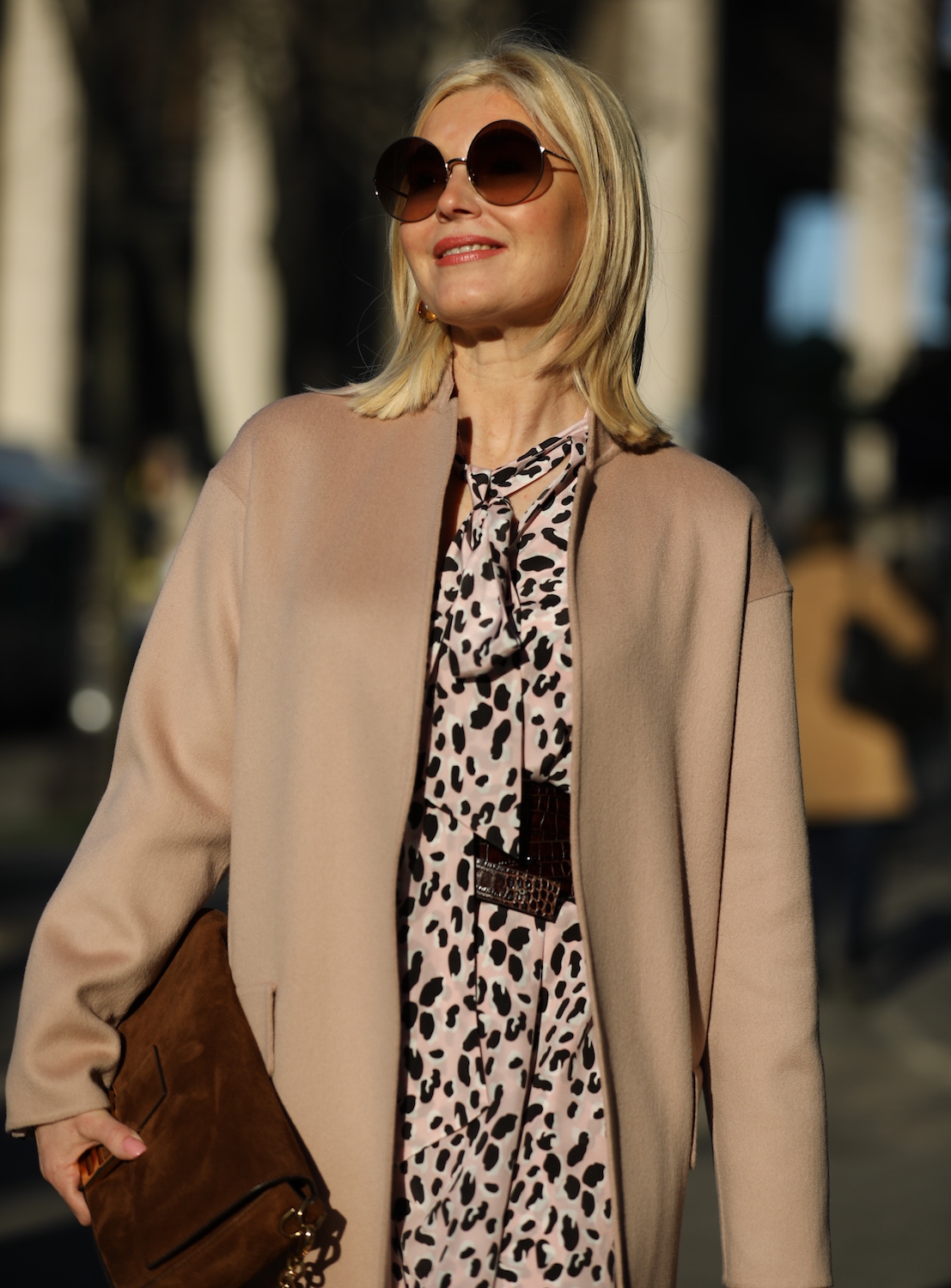 Zu dem karierten Regenmantel gibt es den passenden Hut.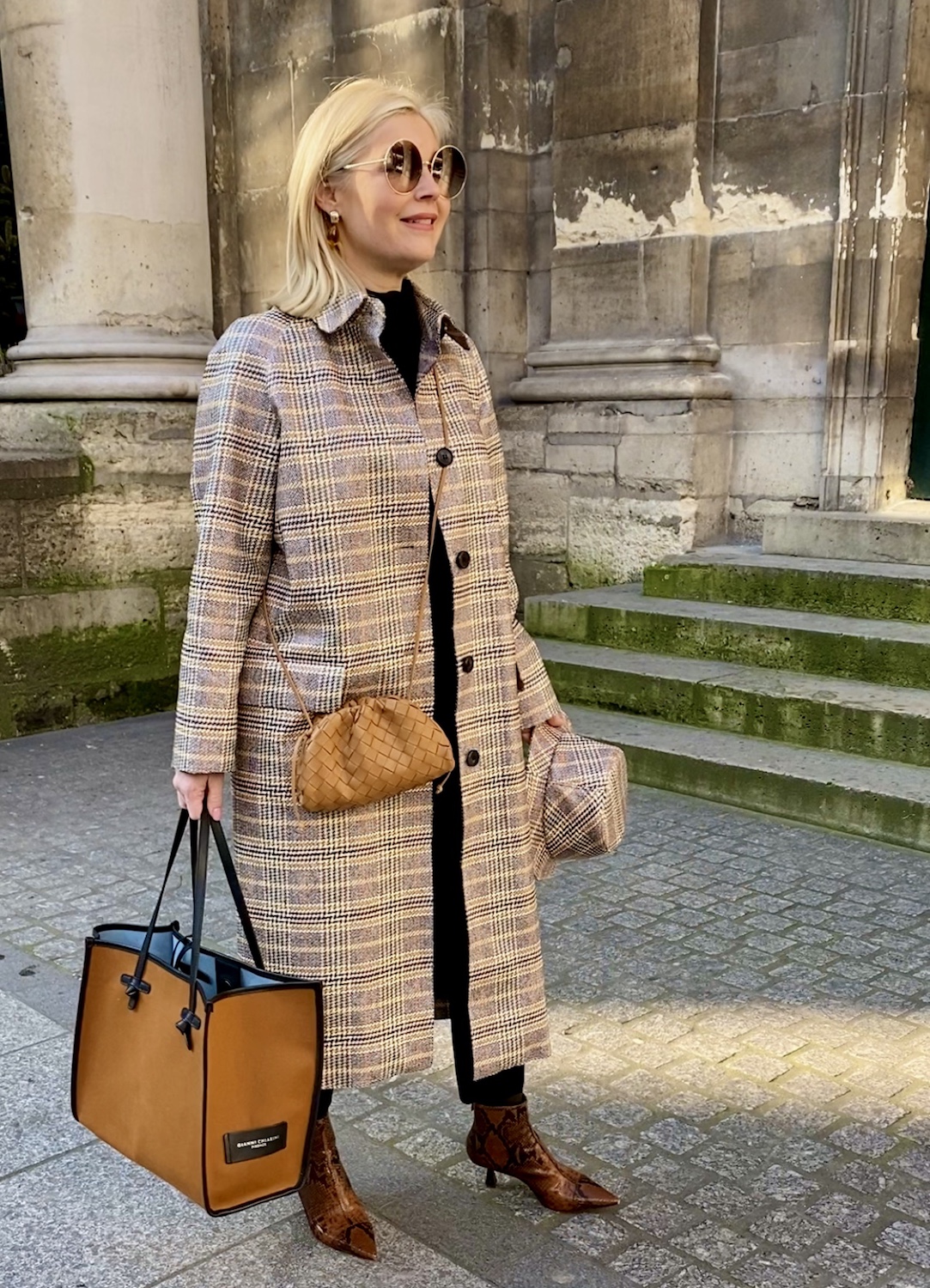 So nun freuen wir uns aber erst mal auf den Frühling. Ich bin gespannt, wie Euch die Kollektion gefällt.
Habt einen guten Start ins Wochenende!
Fotos: Fast alle von Uwe Erensmann
Werbung durch Nennen und Verlinken von Namen und Marken